Epic Protein Complete Coffee
Bold coffee flavor with creamy sweetness
Shake up with water or add to smoothies, oatmeal, etc.
20 g complete protein per serving
30% RDA vitamin C per serving
Packed with superfoods + adaptogens + gut-loving prebiotics
5 adaptogenic mushrooms - reishi, chaga, maitake, lion's mane, turkey tail
90 mg natural caffeine per serving

Nutrients to boost various areas of wellness
Supports muscles, immunity, stress levels + more
Super clean formula - no gums, "flavoring" fillers or additives

No erythritol or other sugar alcohols 

Combine with our new Colorfuel Adaptogenic Drink Mixes
Ingredients & Nutrition Facts
Shop bundles to combine and save. Get it when you want it, fully customizable.
15% off

regular price
Skip or cancel anytime
Extra reward perks*
Money back guarantee
How rewards work
A Sprout Living account is required to earn rewards. Get $5 just for signing up!
Bold and robust coffee flavor accented by hints of coconut and cinnamon.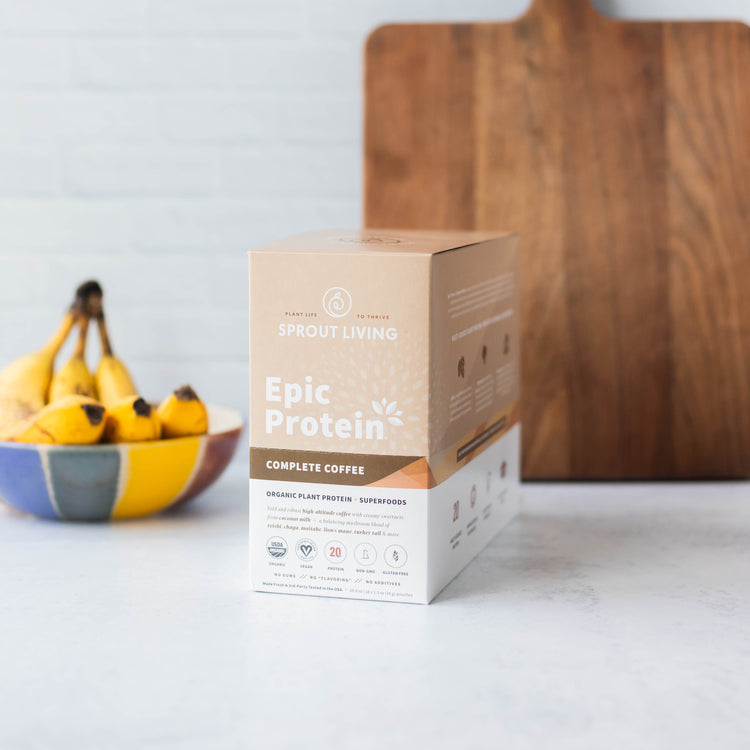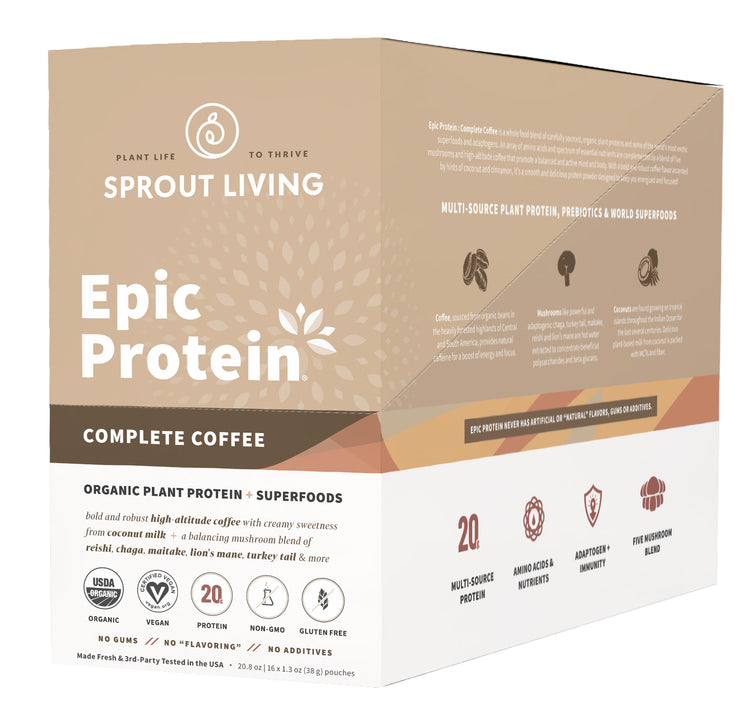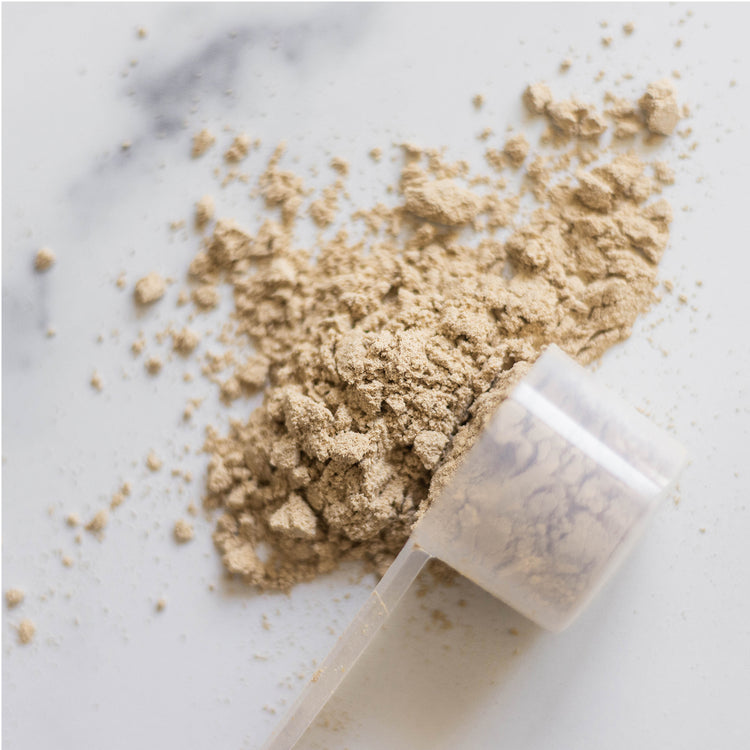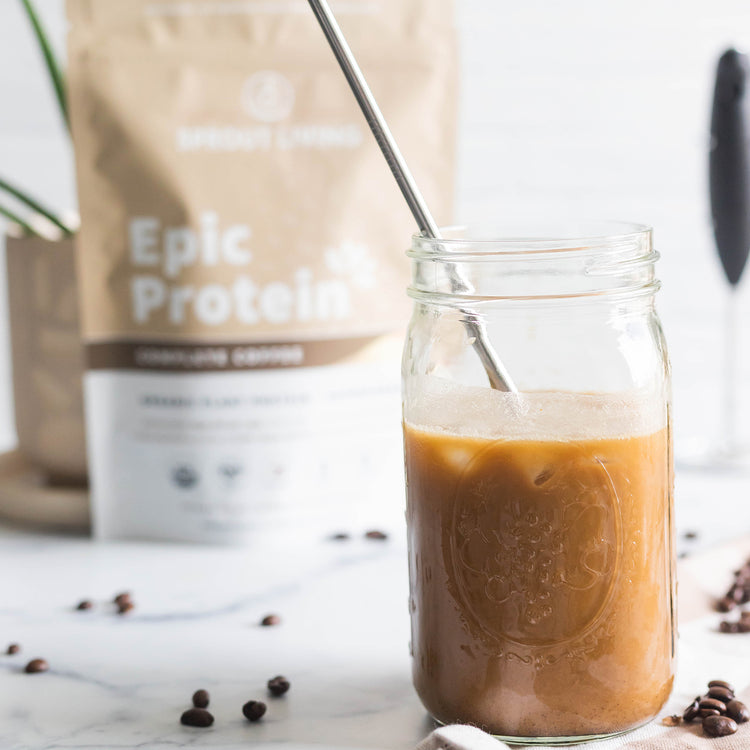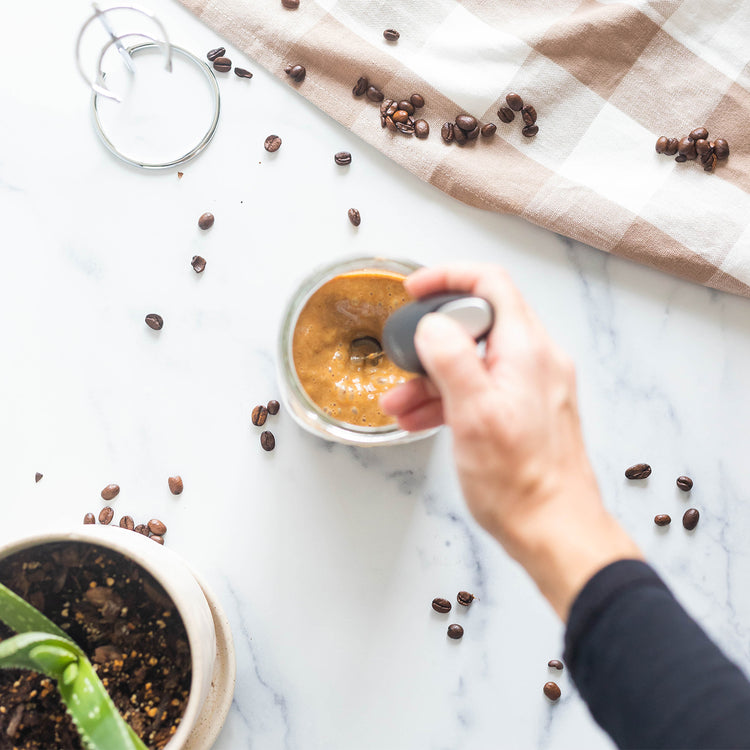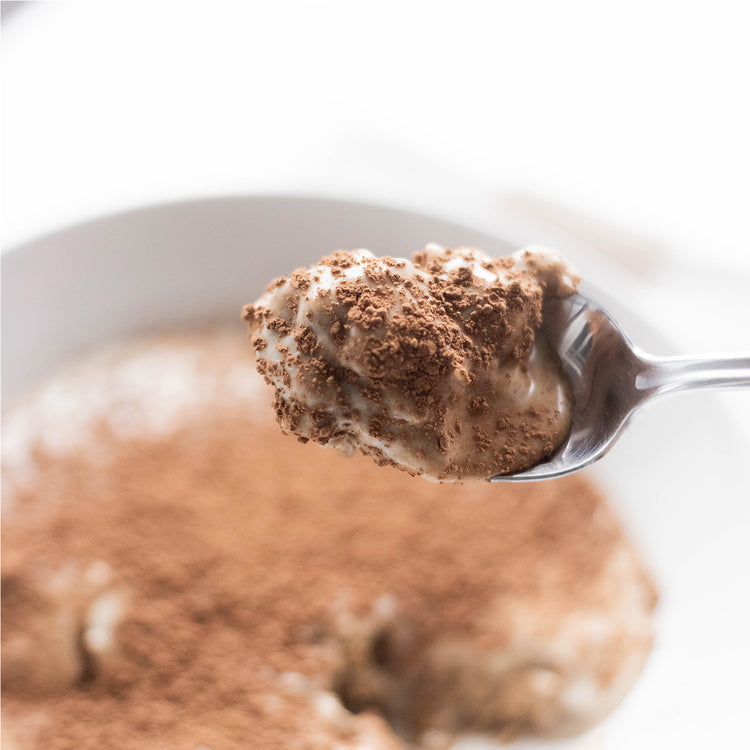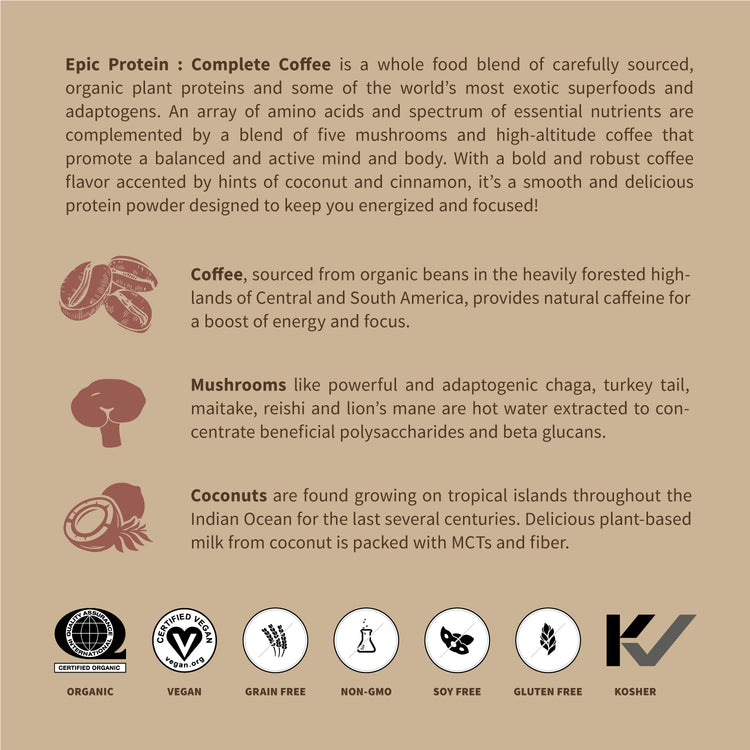 Bold freeze-dried coffee.
Powerful adaptogenic mushrooms.
If you're looking for more than your average cup of joe, Epic Complete Coffee is the one for you. Bold and robust, with hints of coconut, it elevates your traditional morning routine and is incredible mixed with water (warm or iced), nut mylk or blended into a smoothie!
A combination of five powerful adaptogenic mushrooms – including reishi, lion's mane and chaga – reduce inflammation, lend the body immune support and help promote a healthy stress response. Like we said, more than your average cup of joe.
Five Mushroom Blend
Real Ingredients
Certified Organic
Certified Vegan
Gluten Free
Build & Repair
Adaptogens
Certified Kosher
Boost Immunity
Five Mushroom Blend
Real Ingredients
Certified Organic
Certified Vegan
Gluten Free
Build & Repair
Adaptogens
Certified Kosher
Boost Immunity
Five Mushroom Blend
Real Ingredients
Certified Organic
Certified Vegan
Gluten Free
Build & Repair
Adaptogens
Certified Kosher
Boost Immunity
High-Altitude Coffee
Bold flavored bean that offers more than just caffeine but a wealth of minerals and polyphenols.
Reishi
Large, shiny mushroom with triterpenoids, beta-glucans, polysaccharides and peptidoglycans.
Chaga
A deep orange, adaptogenic mushroom contains 31 times more antioxidants than blueberries.
Lion's mane
Uniquely shaggy mushroom that has been shown to have positive effects on the body, brain and gut.
What's Inside

Why Epic

Quality

How to Use
Acerola
·
Baobab Fruit
·
Chaga Mushroom
·
Ceylon Cinnamon
·
Coconut Sugar
·
Coffee
·
Cranberry Seed
·
Jerusalem Artichoke Root
·
Lion's Mane Mushroom
·
Maitake Mushroom
·
Pea Protein
·
Pink Himalayan Salt
·
Pumpkin Seed Protein
·
Reishi Mushroom
·
Sacha Inchi Protein
·
Stevia Leaf
·
Sunflower Seed Protein
·
Turkey Tail Mushroom
Complete amino acid profile
Builds lean muscle
Powerful post-workout recovery aid
Energizing & satisfying
Perfect boost for smoothies
Packed with nutrient-dense superfoods
Whole food nutrition
No weird additive or fillers
Certified Organic
Free of gums
Free of "flavoring"
Made with Superfoods
Herbs, spices & more
Real flavor and texture
Other Plant Protein
Not certified organic
Full of gums & thickeners
Full of "flavoring"
Generic protein base
Label candy
Overly sweet
Certified Organic by Quality Assurance International, a leading U.S. organic certification agency
Certified Vegan by Vegan Action, the most trusted vegan certifier in North America
Third-party tested - ingredients and finished goods - to ensure the highest quality
Produced in a cGMP facility that follows strict quality standards
Ingredients souced directly from trusted farms, growers, and suppliers
Formulated in a kitchen, not a lab
We love just shaking it up with 10oz of cold water, but feel free to add it to your favorite smoothie recipe or incorporate it as a boost to baking or snack recipe.
Or try this delicious donut recipe:
Coffee Cake Protein Donuts
These oven-baked donuts are packed with flavors of chocolate and coffee and cinnamon. There's also 20g of complete protein and a five mushroom blend hidden inside! Enjoy them for breakfast, as a post-gym snack or guiltless treat to calm your sweet tooth.
INGREDIENTS
Donuts
1 cup oat flour
1 tsp baking soda
1 tsp baking powder
1-2 tsp cinnamon
2 scoops Epic Protein : Complete Coffee
1 tsp vanilla
1/2 cup unsweetened applesauce
1/2 cup almond milk
Chocolate drizzle
1/2 Tbsp coconut oil
1/2 cup vegan chocolate chips
DIRECTIONS
Combine dry ingredients in one bowl and wet ingredients in another.
Gradually pour the wet mixture into the dry and stir until everything is incorporated.
Preheat your oven to 350°. Grease a donut pan using avocado or coconut oil, add the batter and cook for 10-12 minutes.
While your donuts are cooling, make your chocolate drizzle.
Heat coconut oil and chocolate chips over medium heat. Drizzle warm chocolate over donuts.
Notes
Makes 6 donuts, store in refrigerator.
SAVE 15% with
subscription
Never run out of your favorite blends. Subscribe and save on every order + get some really great perks.
Access to exclusive sales
Free shipping orders $50+
Swap, skip or cancel any time.
Real reviews from real customers.
Choosing a selection results in a full page refresh.