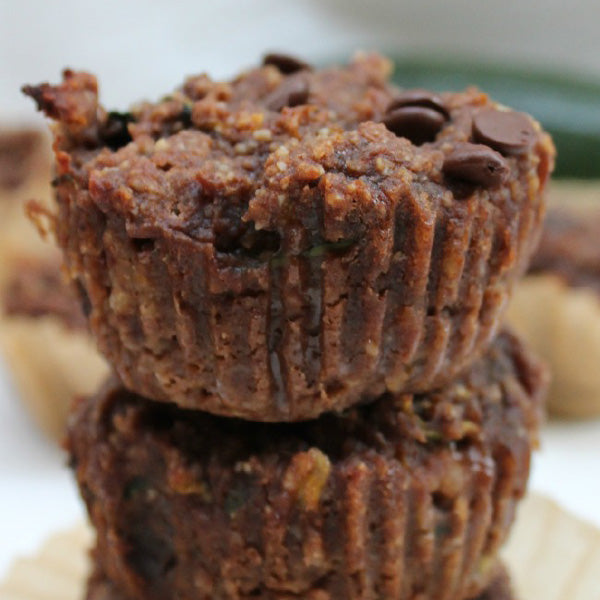 These Vegan Zucchini Muffins combine fresh, shredded zucchini with a variety of other nutritious ingredients including our
Simple Protein : Sacha Inchi Natural
for breakfast snacks that are packed with potent Omega fatty acids, high quality protein and more. Enjoy!
INGREDIENTS
¼ cup coconut oil, melted
¼ cup flax meal + ¼ cup water
2 mashed bananas
¼ cup honey or maple syrup
1 tsp. vanilla
3 Tbsp. coconut flour
½ tsp. baking soda
1 cup almond flour
½ tsp. sea salt
3 Tbsp. cacao powder
1 zucchini, shredded
¼ cup vanilla almond milk
¼ cup mini chocolate chips
1 serving Simple Protein : Sacha Inchi Natural
DIRECTIONS
Preheat oven to 350 Deg F, and line muffin tins with paper liners; set aside.
Mix flax and water; allow to sit for 2-3 minutes and then add oil, bananas, sweetener, vanilla, zucchini and almond milk in a medium bowl and mix well.
In a large bowl, add all of the remaining ingredients and stir, slowly adding the mixture from the other bowl and stirring well.
Spoon the mixture into the muffin tins, and bake for 26 minutes.
Allow to cool for 5-10 minutes before eating (hint: they will be slightly under cooked, which allows for a more moist muffin).
Enjoy!
NOTES
Makes approx. 12 muffins
Nutrition Information:
Calories
: 165,
Fat
: 6.6g,
Trans fat
: 0,
Carbohydrates
: 13g,
Sugar
: 8.8g,
Fiber
: 3g,
Protein
: 6.1g,
Cholesterol
: 0
---
ABOUT THE CHEF
Sarah and Peter are The Couple behind TheSeasonalDiet.com, where they encourage healthy eating all of the time. They run an online community where they help others create and maintain healthy habits. All of their recipes are Plant-based, gluten-free and change with each season. Sarah does most of the recipe creating but Peter always makes sure to do the taste testing and helps with the final details.