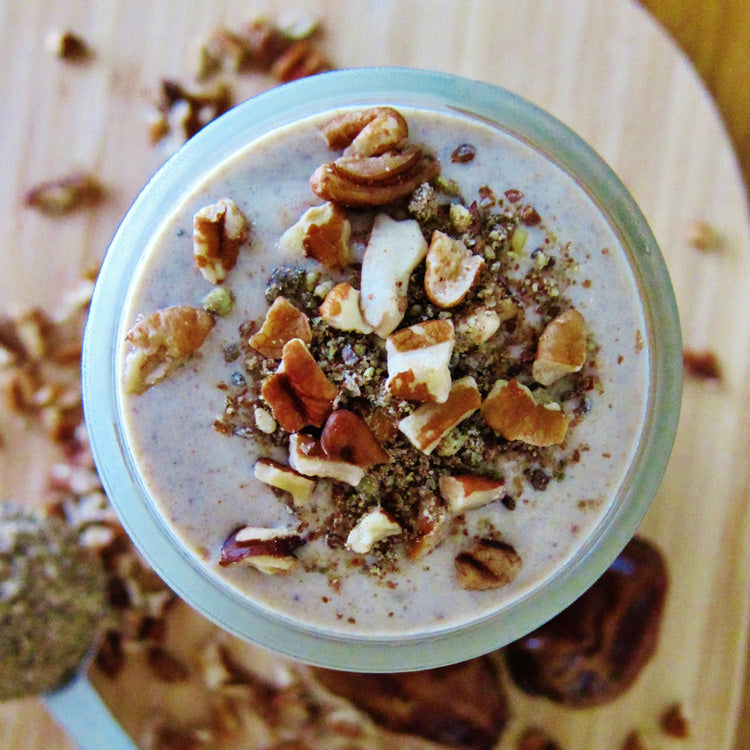 Vegan Pecan Pie Mylkshake
This Vegan Pecan Pie Mylkshake combines vegan milk, raw pecan butter and more with our
Epic Protein : Vanilla Lucuma
and our
FD Sprout Mix : Omega Gather
for delicious dessert milkshake that doubles as a post workout smoothie thanks to the added protein and incorporates an array of healthy Omega fatty acids from four different sources. Enjoy!
Visit Fragrant Vanilla Cake's original post to enter the current giveaway!
INGREDIENTS
1 cup raw coconut milk or pecan milk
1/3 cup raw pecan butter (or 3/4 cup chopped raw pecans)
1 tsp pure vanilla extract
6 medjool dates, pitted
1 scoop Epic Protein : Vanilla Lucuma
1 Tbsp plus 1 tsp FD Sprout Mix : Omega Gather
6 bananas (frozen and cut into pieces)
2 cups sweet (not tart) apples, diced
DIRECTIONS
Add all ingredients to blender and blend on high until a thoroughly smooth consistency.
Remove ¼ of the mixture, and set aside in a glass or bowl, then blend the beets into the rest of it.
Pour the second mixture in two glasses, and then top with the first mix.
Enjoy!
NOTES
Makes 2 cups.
---
ABOUT THE CHEF
Amy Lyons is the blogger and recipe writer behind Fragrant Vanilla Cake, a blog featuring raw and vegan desserts as well as a few savory dishes. She is also the author of Rawlicious Desserts published in 2013. She graduated from Bethel University in 2007 with a degree in Studio Art and has a passion for creating beautiful things and helping others eat healthier.