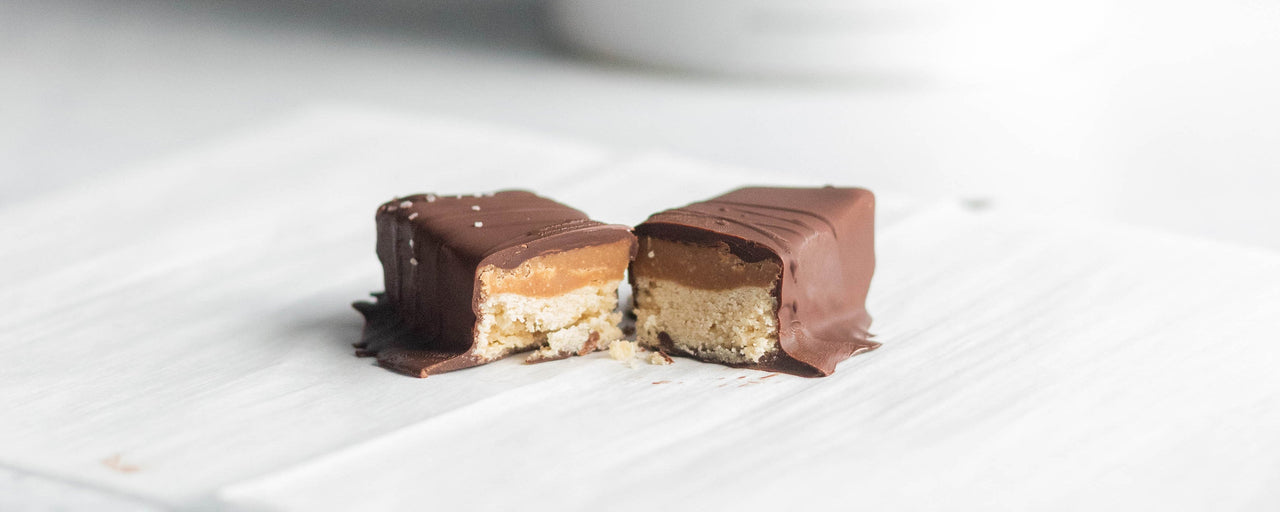 These High-Protein "Twix" Bars were created by
Chef Bae
- go give her a follow on Instagram. Simple, wholesome ingredients and a scoop of our Epic Protein means they're nutritionally superior compared to the store-bought version that's loaded with high fructose corn syrup and artificial flavors. 
1 cup almond flour
1/3 cup cashew flour
1/3 cup, plus 1/4 cup melted coconut oil
2 tbsp maple syrup
1 scoop Epic Protein Chocolate Maca
2 tsp vanilla extract
1/2 tsp flaky sea salt
2/4 cup (heaping) natural peanut butter
1/4 cup maple syrup
12 ounces dark chocolate, chopped
1 tbsp coconut oil
DIRECTIONS
Preheat oven to 350 F. Line an 8x8 inch square baking dish with parchment paper.
In a bowl, mix together almond four, cashew flour, 1/3 cup coconut oil, maple syrup, 1 tsp vanilla extract and salt until combined. 
Press the mixture into the prepared baking dish and bake 10-12 minutes, until lightly golden and toasted.
Mix Epic Protein, peanut butter, maple syrup, 1/4 cup coconut oil and 1 tsp vanilla extract in a bowl. Pour over crust. Freeze 30 minutes, until firm. Cut into 16 bars.
Melt the chocolate and 1 tbsp coconut oil.
Cover/dip each bar in chocolate.
Sprinkle with flaky sea salt.
Freeze 10 minutes, or until chocolate is set.
Enjoy!