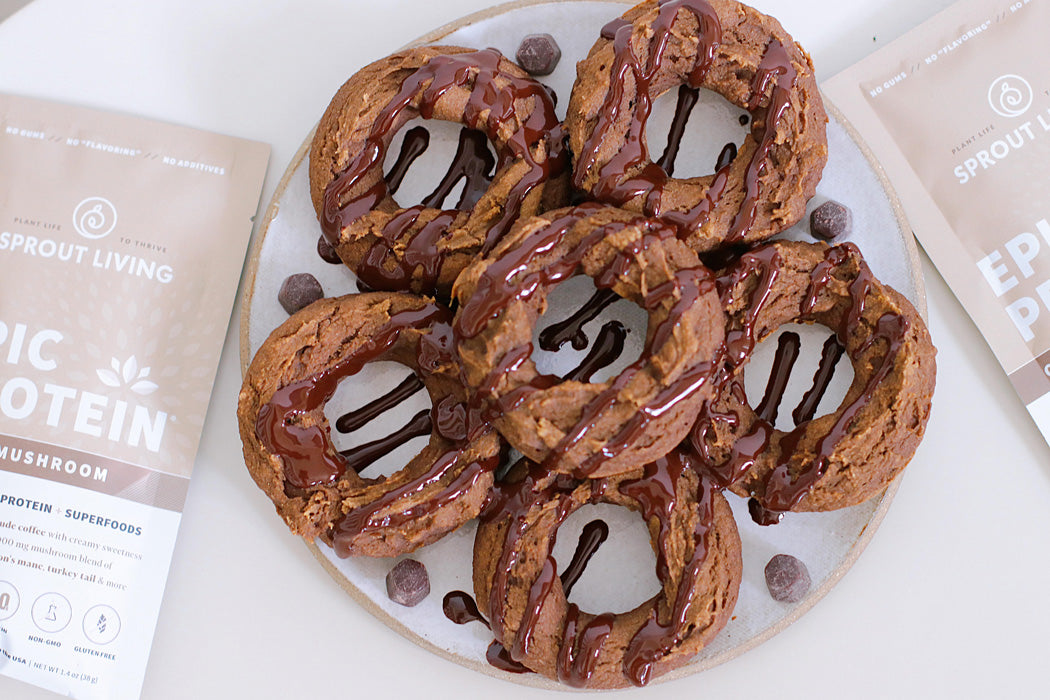 Coffee Cake Protein Donuts
These oven-baked donuts are packed with flavors of chocolate and coffee and cinnamon. There's also 20g of complete protein and a five mushroom blend hidden inside! Enjoy them for breakfast, as a post-gym snack or guiltless treat to calm your sweet tooth.
INGREDIENTS
Donuts
1 cup oat flour
1 tsp baking soda
1 tsp baking powder
1-2 tsp cinnamon
2 scoops Epic Protein : Coffee Mushroom
1 tsp vanilla
1/2 cup unsweetened applesauce
1/2 cup almond milk
Chocolate drizzle
1/2 Tbsp coconut oil
1/2 cup vegan chocolate chips
DIRECTIONS
Combine dry ingredients in one bowl and wet ingredients in another.
Gradually pour the wet mixture into the dry and stir until everything is incorporated.
Preheat your oven to 350°. Grease a donut pan using avocado or coconut oil, add the batter and cook for 10-12 minutes.
While your donuts are cooling, make your chocolate drizzle.
Heat coconut oil and chocolate chips over medium heat. Drizzle warm chocolate over donuts.
Notes
Makes 6 donuts, store in refrigerator.
---
---
ABOUT THE CHEF
This is a guest recipe from Danielle Bear (@cacaoforcoconuts_). Danielle is a food lover on a mission to fuel her body and mind through a healthy lifestyle. She's inspired by the beauty in everything, especially pretty food and hopes to create nourishing recipes that everyone can appreciate and enjoy.