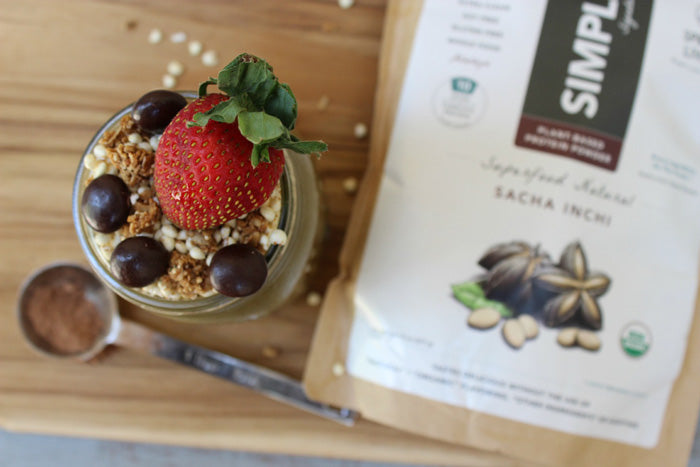 Chocolate Covered Protein Smoothie
This Chocolate Covered Protein Smoothie combines nutrient-dense spinach, banana, coconut milk and cinnamon with our
Simple Protein : Sacha Inchi Natural
for a delicious smoothie that is enhanced with potent Omega fatty acids. Enjoy!
INGREDIENTS
1 handful spinach
1 frozen banana
1 handful ice cubes
1 Tbsp. peanut butter
2 Tbsp. cacao powder
1 serving Simple Protein : Sacha Inchi Natural
½ cup coconut milk (add more to taste)
1 dash cinnamon
toppings ¼ cup crunchy granola
toppings 1 package chocolate covered sacha inchi seeds
toppings 2-4 fresh strawberries, chopped
DIRECTIONS
Add all ingredients to blender and blend on high until a thoroughly smooth consistency.
Garnish with toppings.
Enjoy!
NOTES
Nutrition Information:
Serving size: 1 mason jar
Calories
: 350
Fat
: 10g
Carbohydrates
: 20g
Sugar
: 10g
Fiber
: 6g
Protein
: 16g
Cholesterol
: 0
---
ABOUT THE CHEF
Sarah and Peter are The Couple behind TheSeasonalDiet.com, where they encourage healthy eating all of the time. They run an online community where they help others create and maintain healthy habits. All of their recipes are Plant-based, gluten-free and change with each season. Sarah does most of the recipe creating but Peter always makes sure to do the taste testing and helps with the final details.