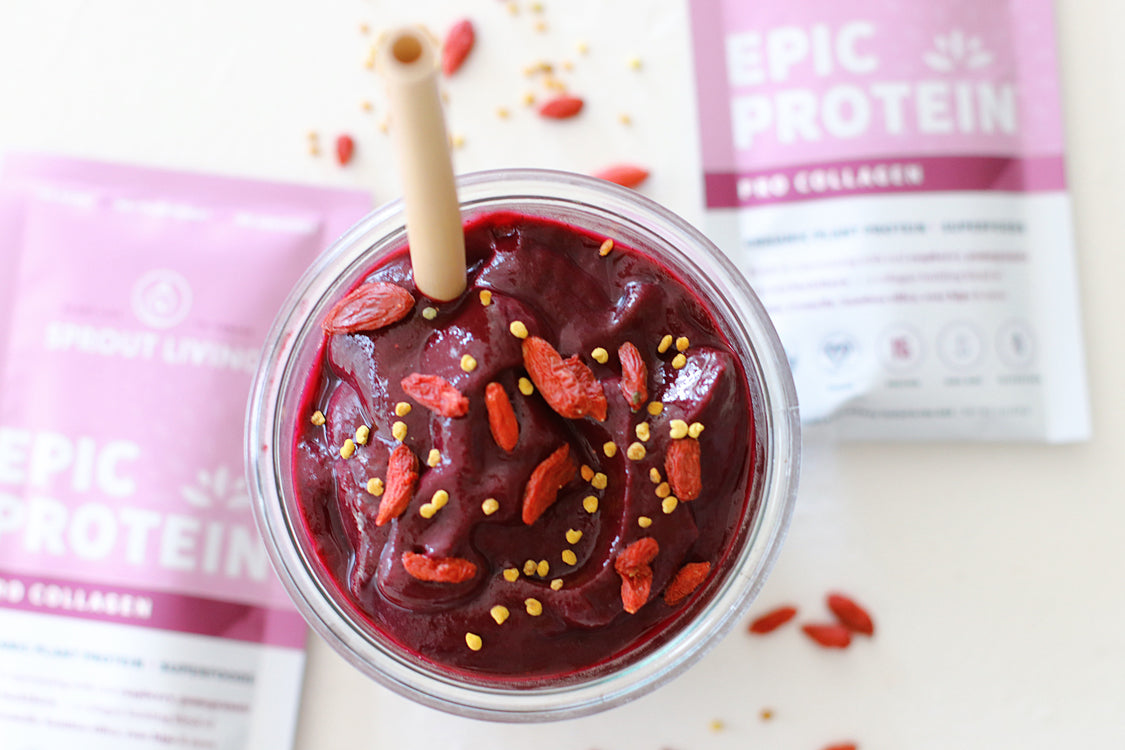 Beet & Berry Protein Smoothie
This Beet & Berry Smoothie is vibrant, delicious and packed with superfoods and hidden greens. Beets and cherries deliver a surplus of antioxidants, making it a super detoxifier, and our Epic Pro Collagen provides a protein boost and hair, skin and nails support!
INGREDIENTS
1/2 cup steamed then frozen beet
1/4 cup frozen papaya
1/4 cup frozen cherries
1/4 cup steamed then frozen zucchini
1/4 cup frozen riced cauliflower
1 frozen banana
1 handful of spinach
1 handful of romaine
A small piece of fresh ginger
A small handful of ice cubes (I used almond milk ice cubes)
1 heaping scoop Epic Protein : Pro Collagen
1 Tbsp pitaya powder (optional)
Coconut water/ almond milk to blend
DIRECTIONS
Add everything to your blender! Blend to desired consistency, adding more liquid if necessary.
Pour into your favorite bowl or jar and top with colorful superfoods! Bee pollen and goji berries are my favorite.
NOTES
---
ABOUT THE CHEF
This is a guest recipe from Danielle Bear (@cacaoforcoconuts_). Danielle is a food lover on a mission to fuel her body and mind through a healthy lifestyle. She's inspired by the beauty in everything, especially pretty food and hopes to create nourishing recipes that everyone can appreciate and enjoy.