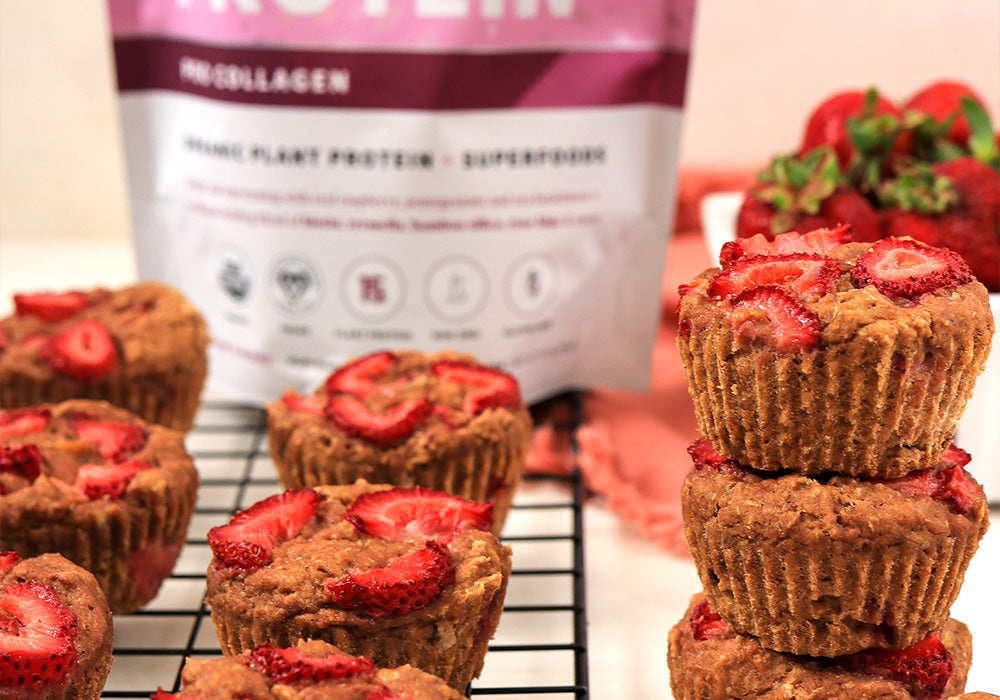 Strawberry Protein Muffins
These Strawberry Protein Muffins are perfect for breakfast or snacking on-the-go. They're easy to make and freeze well!
INGREDIENTS
2 ripe bananas
1/4 cup maple syrup
1 Tbsp maple sugar
1 Tbsp plant based yogurt
1/2 Tbsp cinnamon
1 1/2 cup gluten free flour
1 tsp vanilla extract
1 tsp baking powder
1/4 tsp baking soda
3/4 cup unsweetened almond milk
1 cup chopped strawberry plus more for topping
2 scoops Epic Protein : Pro Collagen
DIRECTIONS
In a mixing bowl, use a fork and mash banana.
Add in the maple syrup, vanilla extract, yogurt and almond milk. Mix well.
In another bowl, combine flour, cinnamon, maple sugar, baking soda, baking powder and berry protein powder. Mix until well combined with no clumps.
Pour the dry mix into the wet mix.
Preheat the oven to 350°F.
Let the batter sit and slightly expand while you chop strawberries.
Fold in strawberries and pour batter into a muffin tin. I used silicone inserts but you could also spray the pan with a little oil. Top with more strawberries.
Bake for 25 minutes.
Let muffins cool and store in the fridge.
ABOUT THE CHEF
This is a guest recipe from Danielle Bear (@cacaoforcoconuts_). Danielle is a food lover on a mission to fuel her body and mind through a healthy lifestyle. She's inspired by the beauty in everything, especially pretty food and hopes to create nourishing recipes that everyone can appreciate and enjoy.