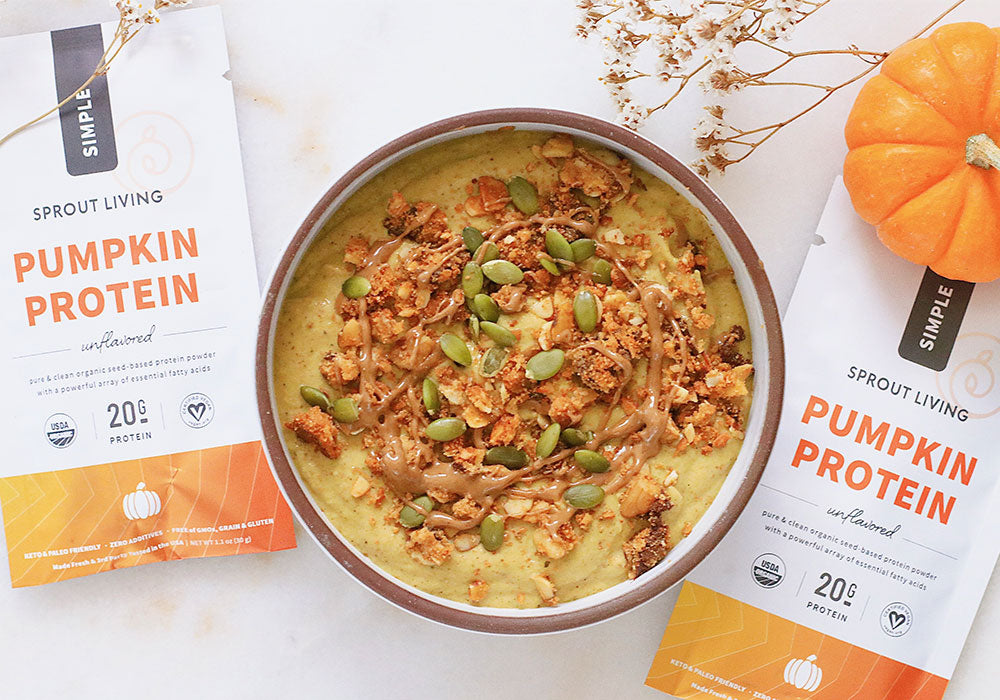 This Pumpkin Spice Smoothie is bursting with cozy fall flavors and nourishing nutrients like vitamin A and potassium. It also packs in 20 g of complete plant protein from our Simple Pumpkin Seed Protein powder. That's no "basic" boost!
INGREDIENTS
1/2 a frozen banana
1/2 cup roasted then frozen sweet potato (I used purple)
1/4 cup pumpkin purée
3 steamed then frozen zucchini slices
1 cup frozen riced cauliflower
1 tsp pumpkin spice
1 Tbsp ground flax
2 Tbsp Simple Protein : Pumpkin
1 tsp Almond Butter
3/4 cup nut milk
1 Tbsp coconut yogurt (optional)
DIRECTIONS
Blend everything up, adding more liquid if needed.
Pour into a bowl.
Top with almond butter, granola and pumpkin seeds!
---
---
ABOUT THE CHEF
This is a guest recipe from Danielle Bear (@cacaoforcoconuts_). Danielle is a food lover on a mission to fuel her body and mind through a healthy lifestyle. She's inspired by the beauty in everything, especially pretty food and hopes to create nourishing recipes that everyone can appreciate and enjoy.