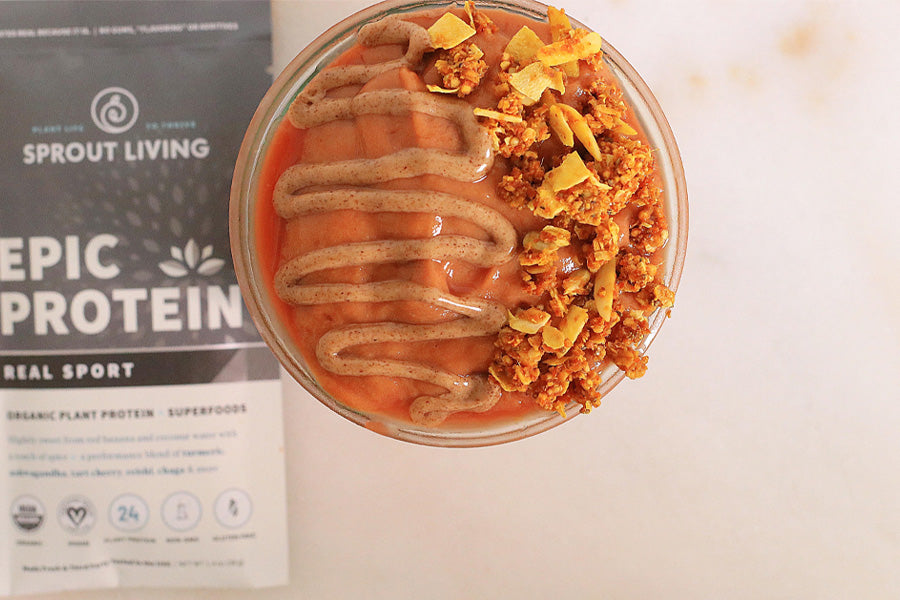 This gorgeous smoothie is packed with detoxifying goodness! It's an excellent way to sneak more vegetables into your diet and is packed with an extra boost of our powerful Epic Real Sport protein.
INGREDIENTS
1 cup frozen cooked beets
1/4 cup frozen steamed yellow squash
3/4 cup frozen riced cauliflower
4 pumpkin puree ice cubes
1 cup frozen orange
1/2 cup roasted then frozen sweet potato
1 scoop Epic Protein : Real Sport
1-2 dates
Cinnamon
1 1/4 cup nut milk or coconut water
DIRECTIONS
Add everything to your blender!
Try to keep blending before adding more liquid to give it a thick consistency.
Pour into your favorite bowl or jar and top with granola and nut butter.
---
---
ABOUT THE CHEF
This is a guest recipe from Danielle Bear (@cacaoforcoconuts_). Danielle is a food lover on a mission to fuel her body and mind through a healthy lifestyle. She's inspired by the beauty in everything, especially pretty food and hopes to create nourishing recipes that everyone can appreciate and enjoy.